Situé au cœur de Nîmes, dans l'enceinte du Margaret – Hôtel Chouleur, ROUGE est un restaurant gastronomique étoilé orchestré par la cheffe béninoise et provençale Georgiana VIOU.
Cheffe autodidacte et passionnée, elle s'inspire de la richesse de ses origines et propose une cuisine méditerranéenne instinctive. La cheffe et son équipe invitent à un voyage gastronomique qui fait la part belle aux produits du terroir, ponctuée de condiments et d'un soupçon de parfums d'ailleurs.
Le chef pâtissier François JOSSE, Champion de France du Dessert 2018 forme avec Georgiana VIOU un binôme complémentaire et signe des desserts à l'assiette qui se marient harmonieusement avec la cuisine de la cheffe.
Au cœur de l'écusson, le restaurant gastronomique ROUGE offre une expérience unique, plonge dans un décor chaleureux, où marbre et laiton se mêlent à la chaleur du bois et du velours, dans un camaïeu carmin et terracotta, ou les beaux jours venus, à la lueur des bougies sous les étoiles.
En mars 2023, le restaurant est récompensé d'une étoile par le célèbre Guide Michelin et le chef pâtissier François JOSSE est pour la seconde fois intégré à la promotion Passion Dessert.
ROUGE
6 Fresque Street
30000 NÎMES
Du mardi au samedi de 19h30 à 21h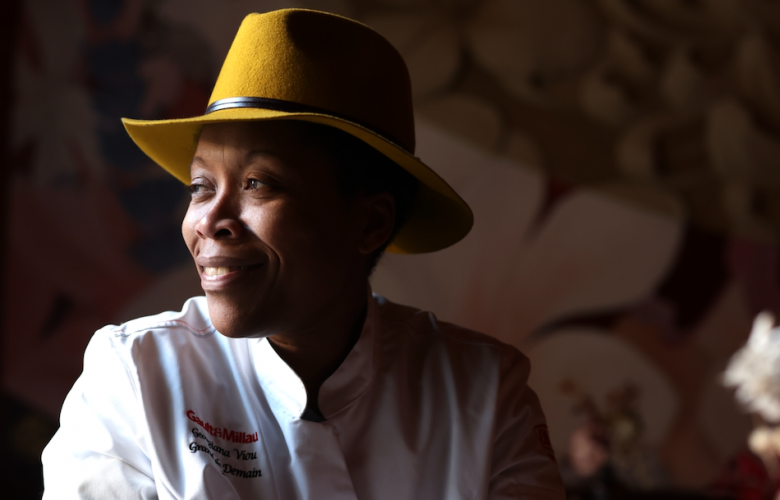 A self-taught, sunny and passionate chef, Georgiana draws her inspiration from the Mediterranean region and the richness of her Beninese origins, around a heartfelt, friendly and lively cuisine. The chef and her team invite you on a bewitching and generous gastronomic journey.
A self-taught and passionate chef, it was after taking part in the first edition of the Masterchef show that she began working in a professional kitchen under the guidance of chef Lionel LÉVY (1* Michelin).
After several training courses with talented chefs, and with the support of Yves CAMDEBORDE, she bought a cooking workshop which became Georgiana's workshop and set up a table d'hôtes. She then hosted a series on the Voyages channel entitled "Georgiana chez vous".
The journey of a passionate woman
Encouraged by the success of her cooking, Georgiana opened her first restaurant "Chez Georgiana". In barely 6 months, she was awarded 2 Toques by the Gault&Millau and a score of 13/20, as well as the "Jeunes Talents Gault&Millau" prize. It was also at Chez Georgiana that she hosted Anthony BOURDAIN and Eric RIPPERT for the Parts Unknown programme broadcast on CNN.
In 2017, she is in charge of the opening of Florent MANAUDOU's restaurant on the Vieux Port, La Piscine.
From 2019 onwards, Georgiana VIOU will participate in numerous events and culinary residencies in France and abroad.
In the autumn of 2021, Georgiana VIOU was awarded the title "Trophée Grand de Demain" by Gault&Millau.