Located in the heart of Nîmes, in the Margaret - Hôtel Chouleur, ROUGE is a Michelin-starred gourmet restaurant run by the chef from Benin and Provence Georgiana VIOU.
A passionate self-taught chef, she draws inspiration from the richness of her origins and offers an instinctive Mediterranean cuisine. The chef and her team invite you on a gastronomic journey that focuses on local produce, punctuated by condiments and a hint of flavours from elsewhere.
Pastry chef François JOSSE, Champion de France du Dessert 2018, and Georgiana VIOU form a complementary team, creating plated desserts that blend harmoniously with the chef's cuisine.
In the heart of the city, the ROUGE gastronomic restaurant offers a unique experience, immersed in a warm décor where marble and brass mingle with the warmth of wood and velvet, in a cameo of carmine and terracotta, or in fine weather, by candlelight under the stars.
In March 2023, the restaurant was awarded a star by the famous Michelin Guide, and pastry chef François Josse joined the Passion Dessert team for the second time.
RED
6 Fresque Street
30000 NÎMES
Tuesday to Thursday from 7pm to 9pm
Fridays and Saturdays from 12 noon to 1.30 p.m. and from 7 p.m. to 9 p.m.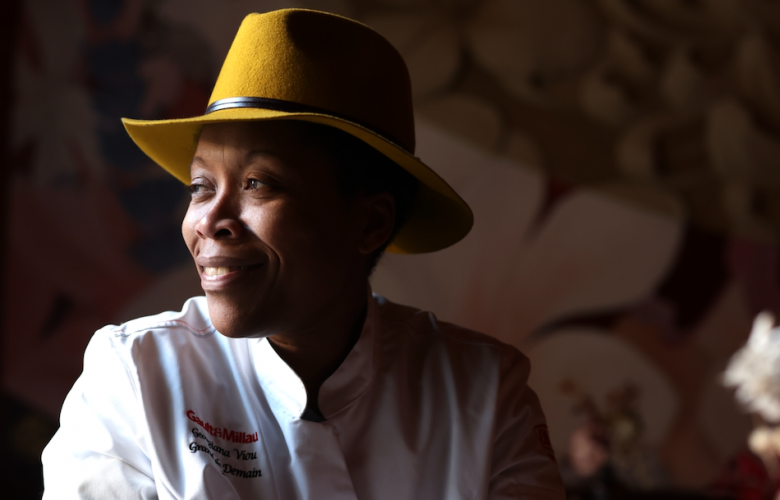 A self-taught, sunny and passionate chef, Georgiana draws her inspiration from the Mediterranean region and the richness of her Beninese origins, around a heartfelt, friendly and lively cuisine. The chef and her team invite you on a bewitching and generous gastronomic journey.
A self-taught and passionate chef, it was after taking part in the first edition of the Masterchef show that she began working in a professional kitchen under the guidance of chef Lionel LÉVY (1* Michelin).
After several training courses with talented chefs, and with the support of Yves CAMDEBORDE, she bought a cooking workshop which became Georgiana's workshop and set up a table d'hôtes. She then hosted a series on the Voyages channel entitled "Georgiana chez vous".
The journey of a passionate woman
Encouraged by the success of her cooking, Georgiana opened her first restaurant "Chez Georgiana". In barely 6 months, she was awarded 2 Toques by the Gault&Millau and a score of 13/20, as well as the "Jeunes Talents Gault&Millau" prize. It was also at Chez Georgiana that she hosted Anthony BOURDAIN and Eric RIPPERT for the Parts Unknown programme broadcast on CNN.
In 2017, she is in charge of the opening of Florent MANAUDOU's restaurant on the Vieux Port, La Piscine.
From 2019 onwards, Georgiana VIOU will participate in numerous events and culinary residencies in France and abroad.
In the autumn of 2021, Georgiana VIOU was awarded the title "Trophée Grand de Demain" by Gault&Millau.